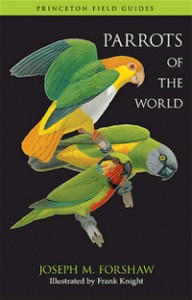 January is the World Parrot Count. So what do you use to identify the wild exotic parrots flying around your city? One place to turn might be the new Parrots of the World field guide by Joseph M. Forshaw (Princeton, 2010).
Parrots of the World is an attractive guide to all 356 macaw, cockatoo, parrot, and parakeet species of the world. It features:
–146 color plates depicting all species and well-differentiated subspecies
–Detailed facing-page species accounts that describe key identification features, similar species, distribution, –subspeciation, habitat, and status
–Color distribution maps
–Notes on where to observe each species in the wild
The species accounts are organized by geographic region–Australasia, Afro-Asia, and the Americas. While this might be useful in the field, it might lead to confusion in identifying exotic urban parrots–especially for urban birders unfamiliar with all the various types of parrots or what part of the world they might be from. Hopefully birders will become more familiar with the diversity and distribution of various types of parrots.
This book is most useful as a concise reference to all of the world's parrots. Flipping through the guide is a visual treat that can lead to wander- and bird-lust. As a field guide, I'm not sure how useful it will be. If I am going to travel to an area where there are lots of parrots, I'm not sure I would bother packing this with a more standard field guide–which would probably do as good if not a better job at helping me identify unknown parrots.
Finally, birders should know that the English names in this book may not match the names in their other field guides or bird references–due to uneven usage around the world and differences between names found in the ornithological and avicultural literature. For instance, Amazona parrots are called Amazons. So one might expect that the Red-crowned Parrots that you are searching for in South Texas or Southern California urban roosts would be indexed as Red-crowned Amazon. But due to its name in the avicultural trade, it is listed here as Green-cheeked Amazon instead! So pay attention to scientific names in case you can't find the parrot you are looking for by the expected English name.
(Review based on review copy provided by Princeton University Press)