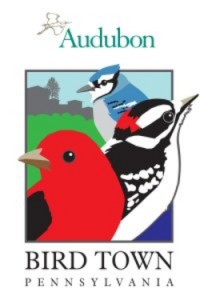 Audubon Pennsylvania has a great Bird Town program that helps local  municipalities improve the habitat value of their town, promote environmental stewardship, and recognize their efforts.  Among the criteria to become a Bird Town, a municipality must:
1) Complete a Bird Town Application
2) Agree to work with Audubon to immediately promote their Bird Town status by:
Publishing the "Welcome to Bird Town" article in their next newsletter
Creating a Bird Town webpage on the municipal website
Posting at least five street signs (provided) and one banner
Providing Audubon with local press contacts to promote Bird Town Backyard Workshops
Making outreach materials available to the public
3) Assign a point person to act as liaison between the "town" and Audubon.
4) Promotion of a Bird Town Festival.  This may be a regional festival, a stand-alone municipal festival, or part of an existing eco-fest or community day
So far there are 19 Bird Towns in 7 Pennsylvania counties.  Another great idea from Audubon PA, a leader in urban bird conservation among the Audubon network in the U.S. Check it out!