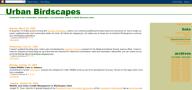 Once upon a time (January 2004) I started Urban Birdscapes on Blogspot (see original here) as a way for me to keep notes and share interesting news stories I found while working on my urban bird conservation dissertation at the University of Texas at Austin.  It was pretty bare-bones and ugly.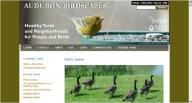 When Audubon hired me to lead urban bird conservation efforts across North America, I stopped blogging at Urban Birdscapes and proposed starting up an official blog for Audubon.  It took three years of lobbying, but the powers that be at Audubon finally let me put up an Audubon Birdscapes blog in 2008.
We had a lot of fun over at Audubon Birdscapes, but when Audubon cut my urban bird program in 2009, they took down the Audubon Birdscapes site.  I was hoping somebody else there would keep it going.  But since that didn't happen…
…Urban Birdscapes is back!